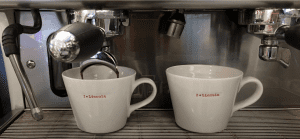 We were approached by Barry when he was at the initial stages of setting up a specialised coffee shop in spring 2016. After initial discussions and listening to his business plan, we quickly started to get a picture of Barry's vision for the Bailgate Deli, a vegan and vegetarian café/deli in Lincoln's Cathedral Quarter.
We worked together to come up with the right espresso coffee blend and range of fine leaf teas and discussed the coffee equipment and skills that would be needed. In one day of Barista training, Barry quickly picked up coffee making skills he could start to build on and he soon discovered he had a fine palate for tasting when a coffee was just right. We even had discussions and offered support on gluten free foods and recipes as we have experience of catering for a coeliac on a daily basis.
We supplied and installed an espresso machine and grinder with accessories and we arranged for a member of staff to receive barista training to City in Guilds level. This comprised of two days intensive training which included excellent coffee making skills.
We have been working with Bailgate Deli since 2016 and provide ongoing support, products and advice. We are always on hand whenever needed and love sharing with them any new products that we have available.
We received the following feedback from Barry:
"Our independent business is setting up a new cafe/deli in Lincoln's Bailgate. A close relationship with suppliers is the cornerstone of such an enterprise. From the first contact with the Lincoln Tea and Coffee Company we've found unconditional support.
Susie and her company have been a rich source of knowledge about the sometimes mysterious world of coffee. She understands the learning processes and has always been prompt in replying to what has been a steady series of questions, some fairly obvious. 
When we asked to attend a barista course and none were available Susie set up a bespoke training day. It was thoroughly researched and carefully delivered, the right blend of formal knowledge and practical activity, and thoroughly enjoyable.
I suspect we'll work with the Lincoln Tea and Coffee Company for many years, growing our mutual businesses. Trust is a critical part of business. We've been able to create trust with ease."
Barry, Bailgate Deli, Lincoln.