Award winning tea & coffee suppliers
We do not sell machinery subject to contracts for coffee supply, we feel customers should stay with a supplier because of the quality of the coffee and the service that is provided. Buying equipment that is tied to a contract to purchase coffee tends to cost more in the long run. We are aware that the set-up costs of a new business can be high, so instead, we offer rental or lease programs for Jura and La Spaziale coffee machines.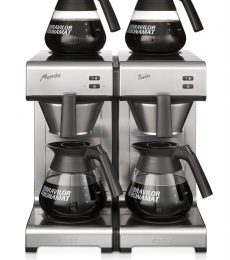 Filter Machines
Bravilor Bonamat is a family business founded over 65 years ago; and we choose to supply Bravilor's Quick Filter Machines. The range includes various machines and offers the possibility to quickly and simply make delicious coffee at any location. High-quality stainless steel combined with black accents give the machines a modern look.
Filter machines are a great way of offering a simple and cost-effective way to serve fresh coffee. We can supply ground coffee in pre-measured sachets, making it even easier to make and providing consistency from one pot to the next. These start at £167.50 + VAT. We can also supply a loan machine subject to a loan contract.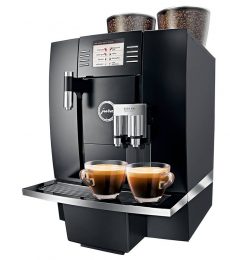 Bean to Cup Machines
We decided to become distributors of the Jura brand as we find Jura offer great customer service and, being a leading supplier of coffee appliances in the UK, have a good reputation for quality and service.
Innovation, precision, quality, reliability, sustainability and service shape the DNA of JURA. The Swiss company is the only brand anywhere in the world to focus solely on automatic specialty coffee machines, and is clearly positioned as a specialist in this market. Coffee machines from JURA are associated with the best coffee result, the simplest operation and stunning design.
JURA coffee machines are self-explanatory, easy and intuitive to use. Wherever they are used at work, in offices, stores, bars, hotels, hair salons etc. – the professional coffee machines indulge customers, guests and staff alike with the perfect coffee.
https://uk.jura.com/
We are also a supplier of the Bravilor Bonamat manufactured fully automatic espresso machines. The Esprecious range benefits from practicalities such as its simple operation, quickness and constant preparation. On top of that, service and maintenance are easy to perform.
Click here to buy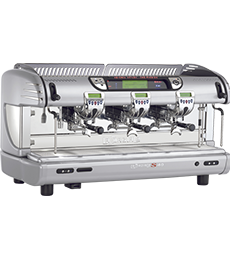 Espresso Machines
We work closely with La Spaziale to supply a great range of espresso machines and coffee grinders. La Spaziale draw on 65 years of experience to bring quality espresso machines to the market. Unique cutting-edge technology, paired with Italian handmade beauty, La Spaziale's unrivalled range of espresso machines cover all requirements and budgets. You can also choose to purchase machinery or we can talk you through their comprehensive rental scheme.
In our personal experience, they are a great choice for businesses as they not only make great barista coffee, but are easier to clean after a busy day's work.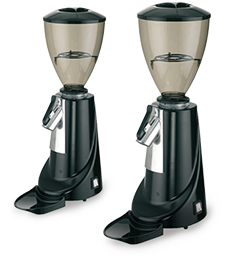 Coffee grinders
We supply a wide range of coffee grinders and would love to help you choose the right one for you. From an on-demand grinder which grinds coffee when you need it, to a grinder with a dosing chamber, choosing the right one will ensure your coffee is always fresh and prevents wastage. Get in touch to discuss which one would suit your needs.