It's official – tea is great for your health! But make sure what you're drinking is real tea – this comes in four varieties: green, black, white and oolong, so the herbal teas are an infusion of a different plant that isn't technically tea.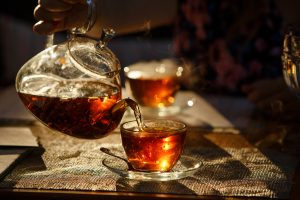 Let's take a look at some of the reasons tea improves our health:
The antioxidants in tea help to prevent a whole host of cancers, including breast, skin, lung and stomach, to name a few.
Tea helps to destroy free radicals which can damage DNA in the body. Whilst our body is designed to fight free radicals on its own, it's not always 100% effective.
Tea is just as hydrating as water – despite the caffeine!
Green tea has been found to improve bone mineral density and strength. Studies suggest that people who drank tea for more than 10 years had the strongest bones.
Evidence suggests that drinking three to four cups of tea can reduce the chances of heart attacks.
Tea has less caffeine than coffee, coffee usually has two to three times more caffeine in it.
Tea boosts the immune system and helps to fight off infection. Evidence shows that when some volunteers drank five cups of tea a day researchers saw higher immune activity in their blood.
Oolong tea can aid in weight management. Studies showed that people who drank oolong tea burned slightly more calories during a two hour period compared to those who only drank water.
White tea can make you look younger! White tea inhibits wrinkle production by strengthening elastin and collagen.
So all of these reasons go to show that tea is fabulous, so get brewing!
Source: www.teaadvisorypanel.com