Around 90% of the tea drunk in Britain is blended; these popular branded names can contain up to 35 different teas, each with their own secret recipe. Some of these popular brands are even blended to cope with the various different types of water in Britain, ensuring that the same quality taste is maintained.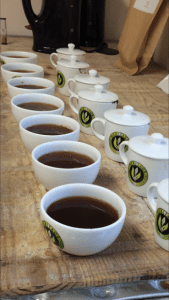 It is the job of a tea blender – a tea taster of many years standing – to make sure that his company blend meets all the criteria required by his tea company. To do this, the tea blender, along with the buyers (also tea tasters) will taste the teas purchased at auction to assess whether they have been contaminated or damaged whilst in storage awaiting auction.
The blender's results are logged on a computer, then the required number of sacks of different teas are put into a large blending drum which rotates and mixes the teas together.
It takes five years to become a tea taster, and then the learning is continuous. During a day, a tea taster can sample between 200-1,000 teas, this is to ensure that the company's brand remains consistent. The process is very precise, with each tea's leaves laid out in containers on a tasting bench, then boiling water is poured on and the brewing carefully timed for 5-6 minutes. The brewed tea is then poured into tasting bowls and the infused leaf is tipped onto the lid of the brewing cup.
The taster then "slurps" the tea (similar to the method of a wine taster) and the liquid is rolled around the mouth to assess the flavour before spitting it out. The tea taster will then take into account the appearance of the dry leaf, the infused leaf as well as the colour and quality of the brew.